01.06.2018
STEP-IN project launch

STEP-IN officially started on June 1, 2018.
14.-15.6.2018
Kick-off meeting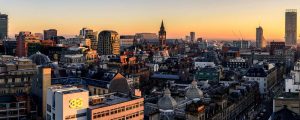 All STEP-IN partners came together for the project's kick-off meeting in Manchester, UK on June 14-15, 2018. Fruitful discussions among the partners and with the EASME Project Officer and interaction with local organisations working with vulnerable consumers provided motivation to collaborate on the important topic of energy poverty.
January 2019
Network of Interest
Circulation of questionnaires to members
February 2019
Start of Living Labs Phase 1
March 2019
Network of Interest
Questionnaire analysis
September 2019
Start of Living Labs Phase 2
September 2019
Consumer organisation conference
This conference will be organised by ADICONSUM in Italy.
September 2019
Summer school #1
September 2019
Stakeholder workshop #1
February 2020
Start of Living Labs Phase 3
May 2020
Stakeholder workshop #2
July 2020
National conference in Greece

The national conference will be held at the National Technical University of Athens (NTUA).
July 2020
Summer school #2
@national conference
November 2020
Final public workshop
November 2020
Stakeholder workshop #3
@final workshop
November 2020
Summer school #3
@final workshop